Q-Acne Complex With Salicylic Acid
This is an advanced Acne treatment and multiactive emulsion dedicated to the treatment of common and hormonal acne and acne scars.
Common acne is caused by the inflammation of a follicle which occurs for various reason, of which the most common is excess sebum that clogs pores, causes swelling, bacterial proliferation and therefore inflammation in that area.
Whereas hormonal acne is triggered by hormone imbalances (typically during menstruation in women) the symptoms on the skin are very much like those of common acne.
The complex of active ingredients that make up Q-Acne acts synergically and topically to clear the skin of clogging sebum (by exfoliation and AHA's), to sanitize it \ eliminating redness and itchiness, as well as repairing follicles.
Q-Acne Compex is particularly indicated for uneven skin.
The product comes in the form of an cream/lotion with natural delicate fragrance.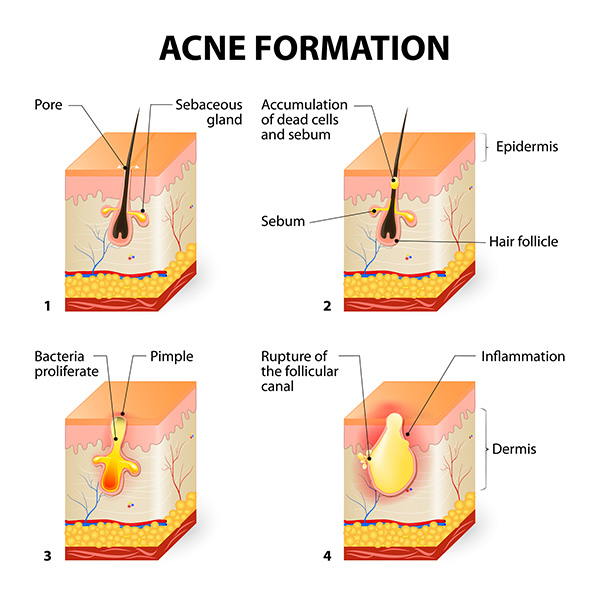 Q-ACNE COMPLEX : ingredients and actions
Salicylic acid : ensures an exfoliating action and, thanks to its acidifying properties, removes excess sebum that created pore obstrucion. Renownedly it acts to turn off the inflammation due to its bacteriostatic property and its peculiar skin sanitizing activity.
Glycyrrehetic acid : its astringent properties make it an important complement to the action of salicylic acid
Vitamin E (Trocoferolo) : an important regeneration and healing action on the skin. It restores the health conditions of the pores damaged by the accumulation of coagulated sebum.
Aloe Barbadiensis : emolient and moisturizing action, it contributes with Vitamin E to restores the health condition of the skin.
Beta Glucan Complex : it has the activity of increasing the systematic immune action of the skin, contributing to the sanification process.
Physavie extract: innovative active ingredient with important and quick action against reddening of the skin
As result of all mentioned ingredients balanced action, we have the following healing process:
clearing the skin of clogging sebum making follicle free again
sanitizing skin (through bacteriostatic action)
eliminating redness and itcheness
repairing follicles
The key point of Q-Acne is in its name already : Q-Acne Complex
Q-Acne Complex topical and multi active treatment for acne, and is a cosmetic product.
The product does NOT contain silicone, petrolatum, parabens, nor perfumes
Q-Acne Complex has been NOT tested on animals.
Ingedients: Salicylic acid : ensures an exfoliating action and, thanks to its acidifying properties, removes excess sebum that created pore obstrucion. Renownedly it acts to turn off the inflammation due to its bacteriostatic property and its peculiar skin sanitizing activity. Glycyrrehetic acid : its astringent properties make it an important complement to the action of salicylic acid Vitamin E (Trocoferolo) : an important regeneration and healing action on the skin. It restores the health conditions of the pores damaged by the accumulation of coagulated sebum. Aloe Barbadiensis : emolient and moisturizing action, it contributes with Vitamin E to restores the health condition of the skin. Beta Glucan Complex : it has the activity of increasing the systematic immune action of the skin, contributing to the sanification process. Physavie extract: innovative active ingredient with important and quick action againt reddening of the skin