Product Description
BODY WHITENING DAY CREAM SPF 30 - 60ml
Lightens the overall complexion on the body and diminishes the dark spots on underarms, knees, elbows, inner thigh or any part of the body where skin discolorations occur.*
Thanks to effective combination of carefully selected herbal extracts, vitamins and lightening agents BioBalance Body Whitening Cream brightens the overall complexion and diminishes the dark spots on underarms, knees, elbows, inner thigh or any part of the body where skin discolorations occur.*
Its selected botanical extracts deliver optimum hydration to leave skin smooth and soft while removing dead skin cells.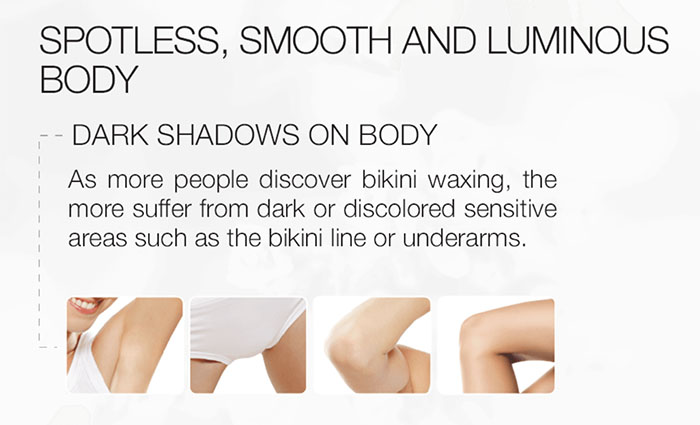 Whitens brown spots, old scars, tans & sun damage, freckles and birthmarks.*
Reduces dark shadows around the delicate skin area.
Evens out skin tone.
Improves skin texture and clarity.

Instructions:
Once the skin is cleaned and dried, apply to inner thighs, armpits, knees, elbows or any other problematic part of the body. Use 2-3- times per day. Its regular application is recommended to, naturally, fade the appearance of the dark spots and to obtain an even complexion. It is totally effective and safe.
KEY ACTIVE INGREDIENTS:
Niacinamide

Cera Alba

Vitamin C

Glycyrrhiza Glabra Root Extract

Allantoin

Centella Asiatica Extract

Rosmarinus Officinalis Leaf Extract

Vitamin E

Shea Butter

Panthenol
Sun exposure and skin ageing can cause an uneven production of melanin in the skin that can result in the appearance of sunspots, age spots, hyperpigmentation or an overall darker skin tone.
Dermatologically Tested
Visibly fades the appearance of*:
Hyperpigmentation
Age Spots
Acne scars
Melasma
Sun damage
Old scars
Dark marks & patches
Uneven skin tone
* results may vary from person to person
Product Reviews