Product Description
Caramel Glow Glamour Gel - 200ml
For A Radiant, Sparkly & Even Skin Tone*
Born after 10 years of research and customer feedback, - Caramel Glow face and body gel.


Manufactured in the United Kingdom to the highest standards and EU approved, Caramel Glow Gel will immediately give you a brighter, glowing, caramel coloured even skin tone.
No waiting for 30 days or more for results to show! This is quick! Just apply and gently massage into your skin and you should immediately see your skin transform - it should have a beautiful, radiant and enviable appearance. * Just apply once or twice a day to maintain the look.

Just take a look at the image below from a very happy user of Caramel Glow*...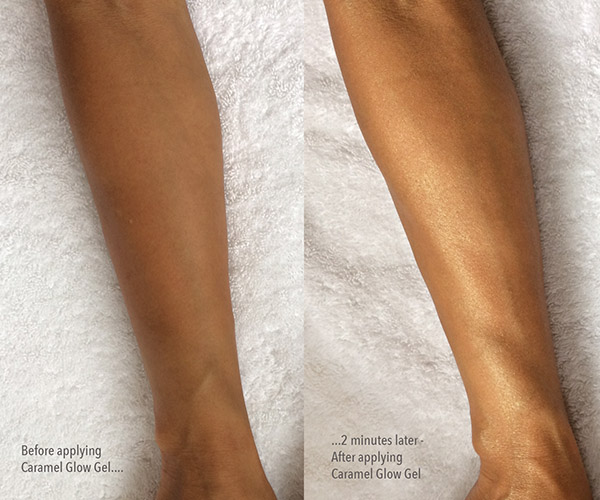 * results may vary from person to person
Say goodbye to dull, ashen and patchy looking skin!
Easy to apply
Dries quickly
No sticky residue
Kind to your skin
Mositurises
Caramel Glow is a silky clear gel that gives your skin an instant caramelly, light gorgeous even skin tone. It will leave your skin with an amazing golden, and radiant sheen, whilst the active ingredients work to fade dark spots and blemishes & help to protect your skin. Your skin will be moisturised and have a luminous golden sparkling finish thanks to the special Mica flecks that cleverly reflect the light! *
This luxurious gel is easily absorbed into the skin and is not at all sticky. Contains unique Mica particles which makes the skin sparkle and look brighter because of it's incredible light reflecting properties.
Caramel Glow also contains Vitamin E which will help to fade dark patches & protect the skin from UV damage. *
* results may vary from person to person
Ingredients: Aqua (water), Aloe Vera Gel (Aloe barbendensis leaf extract),Propylene glycol, Glycerin, Sodium Carbomer, Tocopherol (Vitamin E) Mica (Sun gold sparkle particles), DMDM Hydantoin


Certified Organic Active Ingredients
Instant results!
Alcohol & Paraben Free
Fast drying formula
Manufactured in the UK
No animal testing
Non-comedogenic
Fades dark marks & spots
Protects the skin
Directions: Smooth over the areas you wish to highlight and just leave for a couple of minutes to dry naturally. Can be used all over the body. For best results, apply after exfoliating your skin.

For external use only | Avoid sensitive areas. Discontinue use if skin irritation occurs. Keep out of reach of children.
Manufactured in the UK for Skinlight Cosmetics Ltd to ISO 9001:2008 Quality Standard using the latest technology to produce a premium product.
Other Details
Aqua (water), Aloe Vera Gel (Aloe barbendensis leaf extract),Propylene glycol, Glycerin, Sodium Carbomer, Tocopherol (Vitamin E) Mica (Sun gold sparkle particles), DMDM Hydantoin
Product Videos
Product Reviews
*Lovely product that glides on easily and makes my skin look good.
Would recommend


Used one bottle and it just blended in and no difference to the skin. No point using it might as well use body lotion.

* I finally got the chance to try this product and feel it's my new favourite. So, I used it, smelt lovely, and off I went almost forgetting I used it! Then, whilst in the sunshine I saw my arm glitter! I'm not a glitter girl but this is so subtle.....

Whilst in John Lewis some one commented how lovely my skin looked. This has never happened to me in all my 47 years! Not saying it's to be expected ( peeps commenting) but was lovely.

I'm so very happy to have found this product as I've seen and tried many which claimed to be for all skin types. They have never worked on mine, which is that of a dark skinned black woman.

My other surprise was how clean it was? I was all set to be washing my hands to get it off. No need! Win win I'd say. Well done you guys! You've done an amazing job within the production of this item. Xx

* Well like they say,everyones skin is diff..it definitely didn't work for me.. I have been using supaskin lightening cream which really worked,then I decided to buy this caramel as it was cheaper than supaskin, but it caused my face to break out with spots and didn't lighten me at all.

* I have recently purchased Caramel glow from Skinlight and I wasn't sure what to expect at first. Looking at the golden honey coloured product I was immediately excited! I just loved the luminosity of it and the colour of the gel itsel. My first application was to my arm I couldn't believe how stunning it madd my skin look. It really did make my skin glow and it changed the colour of the tone to a kind of Beyoncé type shade! I looked at the palms of my hands thinking that it's actually a make up so I better not touch anything else until I washed them but there was no colour on my hands. I'm not sure how they do this as my skin shade looks different but the gel is colourless.
It feels very cool in the skin and keeps my skin super hydrated without feeling greasy at all. It really brightened my skin and I have to say I fell in love with it and now in totally hooked.
I work out at the gym so I thought I'd try it on my arms and bottom half of my legs, OMG I could not stop looking at myself. It makes my arms look really toned too.I have been wearing to the gun regularly because I am so addicted to this stuff, it gives me a new lease of feel good confidence. The other bonus is it does not rub off even after a very sweaty session at the gym. I then decided to try this on my face, I use Mac Studiofix powder plus foundation. I wore a thin layer under it after applying my usual skincare and my skin looked AMAZING. It alsoi evened out any pigmentation I had and the tone of my skin. I am prone to breakouts and I have not had one single spot, in fact I think it's improved my skin. I could not recommend this product more, try it for yourself the results are truly fantastic. I am just desperate for the weather to get warmer so I can wear shorts and sleeveless tops and show off my glowing skin. Great if you have uneven skin tone on your body too which I have. I put it on my legs and it just makes everything so even. Its also good if you have cellulite as it seems to mask that too, I think it's due to the light reflecting stuff in it. I can't rave about this enough and the other bonus is that the ingredients are of such high quality with no added nasties. Thank you so much Skinlight and PLEASE, PLEASE NEVER stop selling this product. I've been looking for something like this for ages. It really gives you that celebrity skin look. LOVE LOVE LOVE!


* Yes!!!!!!! - this product is simply amazing. It really does brighten your skin immediately. As soon as I applied it and let it dry, my skin was glowing with a golden radiant sheen. It has a lovely silky texture and has lifted my skin from a dull patchy look to a light, stunning appearance. I'm so thrilled. Just love the ease and instant results. I am totally hooked.