Product Description
Whitening Complexion Treatment with Hyaluronic Acid Ampoule

Special Skin Lightening Therapy from the Professional Home Spa Range*
For a rapid skin lightening effect! Paraben Free*
This unique professional home treatment consists of six products - see product images.
Benefits:*
Rapid complexion lightening,
Stops skin darkening,
Limits the overpigmentation process.
Decreases the skin discoloration.
Corrects Sun Damage
Protects the skin



* results may vary from person to person



* The products are enough for one or two treatments. The complete treatment should be applied just one or twice a month - no more.

Pack Contains:

1 x Intensive Whitenng Mask 10ml
1 x Active Whitening Cream 10ml
1 x Whitening Discolouration Point Cream 5ml
1 x Exfoliating Enzyme Mask 10ml
1 x Micellar Lotio 15ml
1 x Hyaluronioc Acid Serum 3ml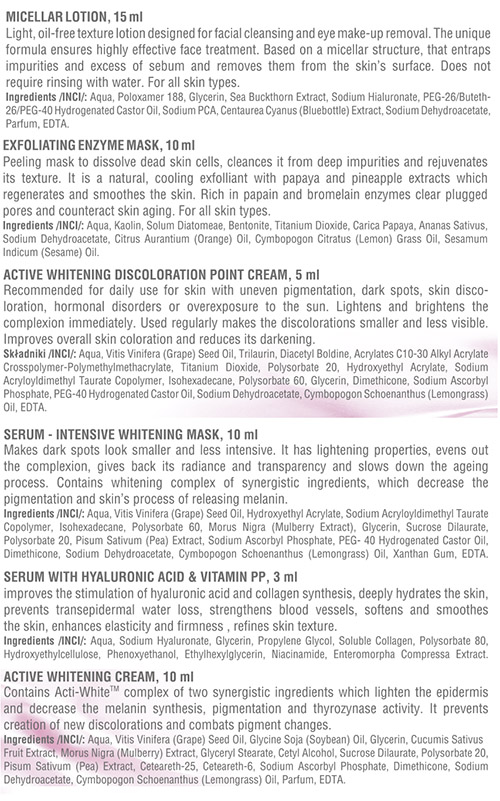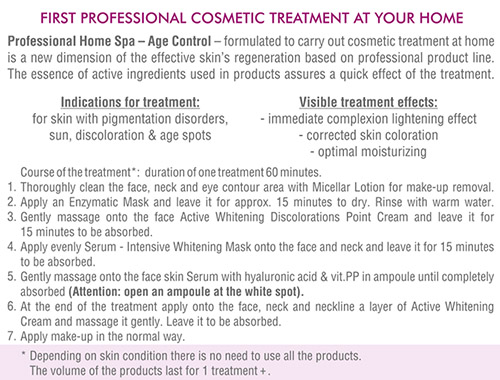 * results may vary from person to person
MADE IN THE EU
AVA Cosmetic Laboratory® has irreplaceable 50 years of practical experience in manufacturing beauty products. AVA's remarkable cosmetics that have proven their effectiveness in thousands of cases and an exceptional knowledge of men womens' beauty concerns. All of these have built the foundations of AVA's success and position.
AVA® Laboratories has always favored ingredients of natural origin and used the highest quality extracts in their most effective concentration for optimum beauty results. All the formulas are laboratory tested for allergy and irritation and are subject to strict research to evaluate their efficiency. They are prepared in order to keep woman's skin protected, beautiful and healthy.
Other Details
see product images for ingredients
Custom Field
Product Reviews
* Impressive results. Really improved my skin and has cleared most of the dark patches. You do need a bit of patience and discipline to apply it properly but it's well worth it.