Product Description
Meladerm for Hyperpigmentation - 100ml Extra LARGE Bottle, Double Size (Better Value)
This is a special order item that will be sent to you directly from the USA. Please allow 4 weeks delivery.
There may be a small customs charge to pay as this product will be coming in from outside the EU.
IMPORTANT NOTICE
Meladerm is a special order only which takes 4 weeks for delivery. We suggest a very similar product - Hyperfade (fast delivery) which is a recommended and ideal alternative to Meladerm and should provide exactly the same results.
You can order Hyperfade now by clicking here.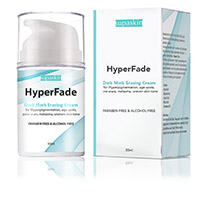 Diminish the appearance of dark spots, uneven skin tone, melasma and hyperpigmentation. *
Trusted worldwide.
Cosmetic Skin Cream -
Visibly reduce the appearance of*:
Hyperpigmentation / discolorations
Age spots
Freckles
Sun damage
Melasma
Acne marks
Old scars*


This 100ml Meladerm is made up of 2 x 50ml bottles.
Other Details
Water, Niacinamide (Vitamin B3), PEG-4 (and) Lactic Acid (and) Kojic Acid (and) Butylene Glycol (and) Mulberry Root Extract (and) Bearberry Leaf Extract (and) Licorice Root Extract, Hydroxyethyl Acrylate/Sodium Acryloyldimethyl Taurate Copolymer, Olive Squalane, Polysorbate 60, Cetearyl Alcohol, Sodium Ascorbyl Phosphate (Vitamin C), Alpha Arbutin, Isodecyl Neopentanoate, Dimethicone/Bis-Isobutyl PPG-20 Crosspolymer, Glycerin, Undecylenoyl Phenylalanine (SepiWhite™), Dimethicone, Glyceryl Stearate, Butylene Glycol, Phenoxyethanol, Benzoic Acid, Ethylhexylglycerin, Glycereth-2 Cocoate, Citric Acid, Dicaprylyl Ether, GigaWhite™ (Mallow Extract, Peppermint Leaf Extract, Primula Veris Extract, Alchemilla Vulgaris Extract, Veronica Officinalis Extract, Melissa Officinalis Leaf Extract, Achillea Millefolium Extract), Phenylethyl Resorcinol (SymWhite®), Caprylic/Capric Triglycerides, Grapefruit Extract, Sodium Hyaluronate Acid, Sorbic Acid, Ceramide 3, Lemon Juice Extract, Rentinyl Palmitate (Vitamin A), Tocopheryl Acetate (Vitamin E), Emblica Fruit Extract
Product Videos
Product Reviews
Winter makes my skin the worst. And post winter the marks are horrid. Used this product for 2 weeks and my marks were already reducing. Was so glad that finally I found a product which actually worked. But it's such a shame that they warn you not to use in pregnancy. Once I found out I had to stop using it. Can't wait to start trying it post pregnancy!

i bought this cream after seeing all the reviews ang good comments from other people but i refret why i wasted my money.Got the worst break out ever.i was ok only for the first week

would not recommend this to anyone who has a sensitive skin.

It is almost 5 weeks since I began this treatment but I did not see any improvement. I have not noticed any change in my hyperpigmented face. Another very disappointing product like the other creams I have tried. Very very disappointed. Not worth buying it

* After just one month of daily use (twice a day), this product has shocked we with amazing results: dark spots disappearing and uniform facial color! Simply fantastic!

I have been using this product now for over 6 weeks and too be honest I have not seen any results, I have been using this religiously twice a day.

I have two dark patch just on my cheek bone, I have light skinned complexion with freckles, I wear spf30 when I go outside and yet this product has not seemed to work yet... not sure if its too early or???

*I was disheartened when I was scarred all over my face after a needling freckle treatment at a reward winning London clinic in March 2017.

After using Meladerm cream along its AHA Exfoliating Serm for the last nine months, the freckles and scars are virtually invisible, my skin tone and complexion are better than ever!

It works .. but have to be patience

*It works .. but have to be patience

doesn't work on old dark spots

Makes face brighter, but doesn't work on darker hyperpigmentation spots...

It takes time to take off the hyperpigmentstion.
The pigmentation resumes immediately I stop using the product. ADVISE on this problem.