Product Description
Meladerm for Hyperpigmentation - 100ml Extra LARGE Bottle, Double Size (Better Value)
This is a special order item that will be sent to you directly from the USA. Please allow 4 weeks delivery.
There may be a small customs charge to pay as this product will be coming in from outside the EU.
IMPORTANT NOTICE
Meladerm is a special order only which takes 4 weeks for delivery. We suggest a very similar product - Hyperfade (fast delivery) which is a recommended and ideal alternative to Meladerm and should provide exactly the same results.
You can order Hyperfade now by clicking here.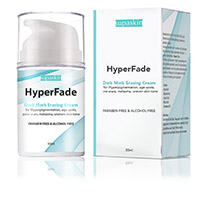 Diminish the appearance of dark spots, uneven skin tone, melasma and hyperpigmentation. *
Trusted worldwide.
Cosmetic Skin Cream -
Visibly reduce the appearance of*:
Hyperpigmentation / discolorations
Age spots
Freckles
Sun damage
Melasma
Acne marks
Old scars*


This 100ml Meladerm is made up of 2 x 50ml bottles.
Other Details
Water, Niacinamide (Vitamin B3), PEG-4 (and) Lactic Acid (and) Kojic Acid (and) Butylene Glycol (and) Mulberry Root Extract (and) Bearberry Leaf Extract (and) Licorice Root Extract, Hydroxyethyl Acrylate/Sodium Acryloyldimethyl Taurate Copolymer, Olive Squalane, Polysorbate 60, Cetearyl Alcohol, Sodium Ascorbyl Phosphate (Vitamin C), Alpha Arbutin, Isodecyl Neopentanoate, Dimethicone/Bis-Isobutyl PPG-20 Crosspolymer, Glycerin, Undecylenoyl Phenylalanine (SepiWhite™), Dimethicone, Glyceryl Stearate, Butylene Glycol, Phenoxyethanol, Benzoic Acid, Ethylhexylglycerin, Glycereth-2 Cocoate, Citric Acid, Dicaprylyl Ether, GigaWhite™ (Mallow Extract, Peppermint Leaf Extract, Primula Veris Extract, Alchemilla Vulgaris Extract, Veronica Officinalis Extract, Melissa Officinalis Leaf Extract, Achillea Millefolium Extract), Phenylethyl Resorcinol (SymWhite®), Caprylic/Capric Triglycerides, Grapefruit Extract, Sodium Hyaluronate Acid, Sorbic Acid, Ceramide 3, Lemon Juice Extract, Rentinyl Palmitate (Vitamin A), Tocopheryl Acetate (Vitamin E), Emblica Fruit Extract
Product Videos
Product Reviews
*Excellent

*Fantastic product I have a hyper pigment mark on my face used thus product has faded so much now I don't have to use concealer awesome thanks

Meladerm for hyper pigmentation

*Just starting my third month on the product ( which does last long ) on my hands . I would say that there has been a toning down of the brown spots . Not perfect , but lighter . The product is very nice to put on and I use it first and last thing in the day . Then I put suntan during the day . I think it works .

I have been using this product for 2 months now. Did't produce any results. very disappointed.

Am on my second bottle no significant change


I won't but another bottle it's we are of money

I'm not sure if I can see difference. My skin appears to look the same. They is not a significant change in appearance.

Meladerm hyperpigmentation

Content 2 little and very expensive sure it was less than 20mls. No difference on skin. I cannot recommend it.

Had to wait an age for this to be delivered, issues with stock I was told. Been using the product for about 4 weeks now. I have not seen any improvement to the melasma I struggle daily with. I purchased 2 of these items so I will carry on using it . So in a word, too early to give a positive review

I haven using over 5 weeks I haven't seen any difference on my face