Product Description
Megafade Skin Correction Supplement For Hyperpigmentation - 6 month supply!

Unique Potent Multi-Vitamin & Antioxidant Formula - 180 tablets
Optimum nutritional support for a clear, radiant and even toned complexion.*
These capsules are factory sealed in a special FLAT-PACK bottle for easy delivery.
Recommended for skin with*:
hyperpigmentation
visible wrinkles
age spots
discolorations skin damaged by sun
* results may vary from person to person
This HIGH GRADE Super Charged supplement helps to even out your skin tone. It also acts as a booster to speed up the results from skin lightening and hyperpigmemtation creams. It is a powerful antioxidant – The process of oxidation damages the skin cells.*


Active Ingredients:
VITAMIN C
NIACIN (VITAMIN B3)
VITAMIN A
VITAMIN E
VITAMIN B6
VITAMIN B1
VITAMIN B12
VITAMIN D
BIOTIN
SUITABLE FOR VEGETARIANS AND VEGANS
Directions:
Take one tablet per day with food.
Ingredients:
Vitamin C 80mg (100% NRV), Niacin (vitamin B3) 16mg (100% NRV), Iron 14mg (100% NRV), Vitamin E 12mg (100% NRV), Pantothenic Acid 6mg (100% NRV), Riboflavin (Vitamin B2) 1.4mg (100% NRV), Vitamin B6 1.4mg (100% NRV), Thiamin (Vitamin B1) 1.1mg (100% NRV), Vitamin A 800µg (100% NRV), Folic Acid 200µg (100% NRV), Biotin 50µg (100% NRV), Vitamin D 5µg/200iu (100% NRV), Vitamin B12 2.5µg (100% NRV), Microcrystalline Cellulose, Di Calcium Phosphate, Magnesium Stearate.
Directions: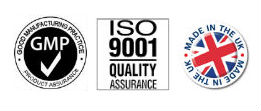 MADE IN THE UK
This product is manufactured in the U.K. to the highest standard
Other Details
Ingredients: Bulking Agent: Microcrystalline Cellulose, Vitamin C Prep (Ascorbic Acid, Hydroxypropyl Methylcellulose), Iron as Ferrous Fumarate, Vitamin E Prep (Dl Alpha Tocopherol Acetate, Silicon Dioxide), Niacin as Nicotinamide, Silicon Dioxide, Vitamin A Prep (Maltodextrin, Dextrin, Modified Starch, Retinol Acetate, Dl Alpha Tocopherol), Pantothenic Acid as D-Calcium Pantothenate, Magnesium Stearate, Vitamin D3 Prep (Maltodextrin, Modified Starch, Vegetable Oil, Sugar, Vitamin E, Cholecalciferol), Vitamin B6 as Pyridoxine Hydrochloride, Riboflavin, Thiamin as Hydrochloride, Folic Acid, Biotin, Vitamin B12 as Cyanocobalamin
Product Videos
Product Reviews