Posted by skinlight.com on on 4th Jan 2019
Hyperpigmentation can present with dark patches, melasma, tanning or dark spots. Sometimes, they are quite resistant and need constant skin care in the form of sun protection and use of the right kind of skin lightening cream that works as listed in this article. I would request you to try the skincare routine for hyperpigmentation given below for at least three months before judging the response.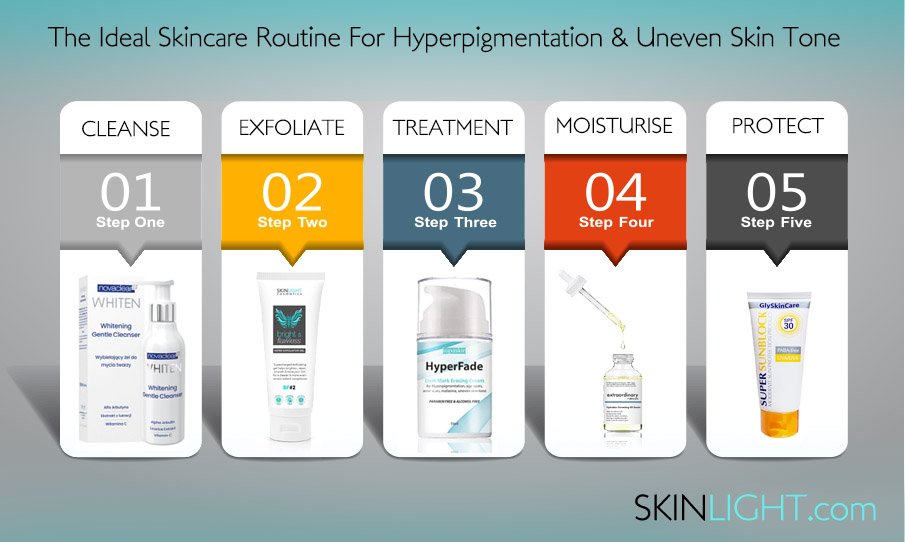 Step 1 - Cleanse your face properly
Cleansing is an essential part of your skincare routine as it removes impurities, dead skin cells and excess oil. It is the first key step for glowing, fresh skin and ensures that your skin is properly prepped for getting the best out of your skin correcting treatment. For treating pigmentation, cleansing properly ensures the skin stays clear and bright.
Step 2 - Exfoliate
Gentle scrubbing helps in exfoliating dead pigmented skin cells. Exfoliation is the removal of dead skin cells on the surface of the skin and is one of the most vital aspects of your skincare routine for face and body.
Exfoliation not only helps many skin problems, it also increases blood circulation, which in turn helps you to achieve healthy and glowing skin. Exfoliation is extremely beneficial for breaking up pigmented cells, helping pigmentation marks to fade. Regular exfoliating helps to promote healthy skin reproduction, giving you a much more even skin tone. After exfoliating the skin is left beautifully soft ready to absorb the skin correcting cream in the next step.
Step 3 - Apply a quality Skin Lightening cream or serum
Applying a Skin lightening cream or serum is the most vital part of your skincare routine. Make sure that you check the ingredients for the presence of some or all of the following top rated skin lightening ingredients; arbutin, glycolic acid, kojic acid, licorice extract, niacinamide, glutathione, etc.
Step 4 - Apply a quality moisturiser
Applying your moisturiser correctly, significantly boosts hydration in your skin which is very important. It prevents flaking and dullness, and creates a protective layer of moisture that should last all day. Also, proper application of a quality moisturiser will help the skin correcting treatments work better.
Step 5 - Apply Sunscreen
Sun protection is very important because those dark patches might return despite treatment.So applying sunscreen should really be part of your daily skin care routine. SPF of 15 is the minimum. However, SPF of at least 30 is recommended. Any good quality regular sunscreen is fine.
If you apply these 5 steps at least four days a week, you will be well on the way to achieving that flawless, radiant and even toned complexion!