Posted by David Furst on 5th Sep 2017
There are two main concepts when it comes to successfully treating hyperpigmemntation caused by inflammatory issues such as sun damage, acne etc. They are;
1. Removal of the discoloured skin.
2. Regulation & prevention of skin discolouration.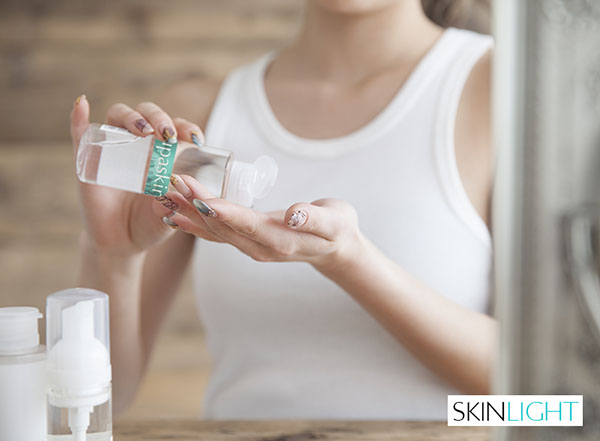 Removal
This involves Chemical peels AHA's such as Glycol Acid, Lactic Acid & various Fruit Acids.
The application of an acidic solution to affected areas, gently removes the top layers of your skin. The old, discoloured skin peels off to reveal the new, unblemished skin underneath.
Many chemical peels use a combination of different acids which may also include antioxidants, which can penetrate the skin further after the acid has exfoliated it.
Chemical peels are a very effective and quick way of clearing hyperpigmentation because they remove the top layer of damaged skin while also promoting the growth of new, healthy skin.
To keep the skin from drying out after a chemical peel, it is strongly recommended to apply a quality moisturiser.

Regulation
Regulation of the discolouration is achieved with skin products that inhibit melanin production and even skin tone. These treatments lighten the darker patches so they eventually match the skin's normal pigmentation, thus leaving you with a bright and even skin tone.
There are a number of topical skincare creams, serums and gels that are available to treat hyperpigmentation. The best quality and most effective products generally contain one or more of the following major ingredients:
Arbutin - a key ingredient in many of the best skin lightening products.
Kojic Acid - derived from a fungus, studies have shown that it is very effective as a lightening agent, inhibiting production of melanin.
Licorice Extract - inhibits pigmentation by preventing tyrosinase activation. Studies have shown that it can provide a considerable skin brightening effect. Licorice also has anti-inflammatory properties making it a very popular ingredient in sikincare.
Niacinamide - also known as Vitamin B3 is an effective skin lightening compound that works by inhibiting melanosome transfer from melanocytes to keratinocytes.
Mulberry extract - a potent inhibitor of Tyrosinase enzyme. (Tyrosinase catalyzes the production of melanin and other pigments).
Vitamin C - has been proven to be very effective against post-inflammatory hyperpigmentation. Often used in conjunction with other active ingredients.
Vitamin E - A very Effective antioxidant which can help reduce appearance of scars and dark marks. Vitamin E protects the skin from environmental pollution and has a protecting action against UV radiation and oxidative stress.
These two removal and regulation concepts can be combined for spectacular results.
The sun's UV-rays have a big influence on your skin. Exposure to the Sun is likely to worsen hyperpigmentation symptoms so, as well as trying to avoid the sun, it is strongly recommended that a high factor sunscreen is applied as part of your daily skin care routine.
Remember, there are no overnight results. Treatments can take several weeks before any noticeable difference is achieved. However, consistency, patience and persistence will provide significant improvements to your skin and in many cases will rid your skin of all hyperpigmentation marks.