New! Hyperfade Skin Brightening Supplement For Hyperpigmentation & Melasma
60 CAPSULES - 2 MONTHS SUPPLY

SUPER POTENT PINE BARK EXTRACT FORMULA


Skin Brightening Supplement - 60 Vegan friendly CAPSULES now with 1250mg Pine Bark extract.
Also contains Bilberry extract and skin brightening vitamins and minerals.

Contains special formula including Pine Bark extract. - nature's secret weapon for achieving bright, radiant skin. Packed with powerful antioxidants, it fights against the damaging effects of free radicals, helping to diminish the appearance of dark spots, sun damage, dull skin and other imperfections. It's your ticket to a brighter, even toned, glowing complexion.

A trial published in the journal Phytotherapy Research in 2002 followed 30 women with melasma taking Pine Bark extract for 30 days. The pine bark extract reduced the intensity and area of hyperpigmentation. In another trial, 94% of people who took pine bark every day for 90 days said their skin had significantly improved.


The advanced natural ingredients have been found to provide the following incredible benefits*:
Treats Hyperpigmentation

Lightens Your Skin Naturally

Evens Out Your Skin Tone

Fades Dark Marks & Age Spots

Protects Your Skin From UV Rays

Firms Your Skin & Smoothes Wrinkles

Detoxifies Your Skin

Reduce Appearance of Acne Scars
Hyperfade supplement is specifically formulated to improve your skin's clarity and radiance, while providing toning benefits and improving your skin's texture.
Hyperfade is manufactured in the U.K. under strict guidelines. It is formulated with EU approved natural ingredients to treat the following skin conditions*:
Melasma
Hyperpigmentation
Acne Scarring
Uneven Skin Tone
Age Spots
Wrinkles


Hyperfade supplement is formulated with the very latest most effective Active Ingredients. The function of each ingredient is explained below:
Pine Bark Extract (Pycnogenol)
Extract from the bark of the pine tree, Pinus pinaster. It's packed with a potent blend of natural antioxidants, which helps to make it a powerful weapon in the battle against hyperpigmentation and dull skin..
Bilberry Extraxt
Contains potent antioxidants known to protect against environmental stressors. With it's internal benefits being so amazing, bilberry also helps delay the appearance of discolourations and pigmentatrion on the skin.
Vitamin C
Essential for healthy skin and provides protection from free radical damage which can cause outbreaks.*
Vitamin E
Effective antioxidant which can help reduce appearance of scars and dark marks.*
Zinc
Zinc helps to repair and renew the skin and prevents acne by regulating the activity of the oil glands. It is also an antioxidant which helps to fight and prevent the formation of free radicals
Selenium
Selenium can positively affect the tone and texture of your skin.
Manganese
Manganese can have an anti-aging effect on skin due to its role in protein synthesis. It plays a role in strengthening skin, plus may benefit elasticity and hydration.


Frequently Asked Questions
Can this product really Fade Dark Patches and Give Me A Clearer Complexion?
Studies have indicated that the active ingredients work to help clear dark marks by inhibiting the production of melanin and reducing the concentration of pigmentation in the skin, creating a brighter more even skin tone.*
How Long Does It Take To See Results?
Although this can vary based on how well your body utilizes the supplement, positive results are possible within 30 - 60 days.*
Can it work on skin all skin types?
Yes it can work on all skin types, Asian, African, Indian, Arab, Middle Eastern, Caucasian and Latin. For men and women.*
Is It safe?
Very Safe. this is manufactured in the U.K . under strict FDA & EU guidelines. The active ingredients, are the most powerful yet natural antioxidants available. In fact, there are numerous benefits to regularly taking this supplement.
Can I take it the same time as other treatment creams or soaps?
Yes. If other creams and lotions are working for you, you can take it to achieve a more natural, even, and healthy skin tone.
Does it work on the face only or will it also work on the body?
The effect will be even and consistent for the face and the whole body. The reason is because the ingredients work to inhibit melanin and decrease the concentration of pigmentation throughout the body. The lightening process happens all over meaning that you will have an even skin tone throughout your body.*
Are there negative long-term effects?
There are no known side effects with oral administration of the ingredients in these capsules.


Active ingredient list:
Pine Bark Extract
Bilberry
Selenium
Vitamin C
Vitamin E
Zinc
Manganese
Citrus Bioflavoinoids
Directions:
Take just one to two capsules daily.
Suitable for vegetarians & vegans.


This product is manufactured in the U.K. to the highest standard (ISO 2000:9001 quality assurance)
Hyperfade is manufactured in a U.K. certified facility. Good Manufacturing Practices are a set of
This product is a food supplement - Store in a cool, dry place.
* results may vary from person to person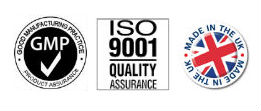 This product is not intended for persons under 18.
This product is a food supplement.
Ingredients: pine bark extract, Bilberry fruit Lutein, zeaxanthin and bioflavonoids. Vitamin C, zinc, manganese, copper, selenium and vitamin E.
* This Pine Bark Supplement has really worked well. I can confidently say that the results have been really good. If you are looking to get brighter, more radiant clearer skin, I wholeheartedly recommend giving this supplement a try. You wont be disappointed.

* From the moment I started taking these Hyperfade supplements, I noticed a significant change in the appearance of my skin. The pigmentation, which had been my constant source of frustration, began to fade noticeably and skin tone was much brighter. After a few weeks of consistent use, the results were even more impressive. excellent product!
size:

30 tablets

directions:

take 1 a day with meals