Nutrifade Hyperpigmentation 30 Day Treatment For Dark Marks & Uneven Skin
Pigment Correcting Supplement - 60 Vegetarian Tablets now with Turmeric, Niacin, Biotin & Grape Seed as well as Vitamins A,C,E,B


BOOST YOUR SKIN TO BOOST YOUR CONFIDENCE
Nutrifade™ contains 19 active ingredients that each have unique properties to clear the skin from dark marks and pigmentation.*
These powerful ingredients work together to clear and lighten your skin to reveal a more radiant and glowing even skin tone.*
"Nutrifade™ is one of the most advanced and comprehensive dietary supplements available to help improve the appearance of uneven, patchy skin tone."
This is our most popular supplement and is formluated with powerful vitamins, minerals and antioxidants that work together to fade dark marks, scars, age spots, sun damage and more!*
If you're still not sure if this is right for you, just take a look at some recent genuine customer reviews by clicking the tab above.
Nutrifade™ is manufactured in the U.K. under strict guidelines. It is formulated with EU approved natural ingredients to treat the following skin conditions*:
Melasma
Hyperpigmentation
Acne Scarring
Uneven Skin Tone
Age Spots
Wrinkles
Nutrifade™ is specifically formulated to improve your skin's clarity and radiance, while providing toning benefits and improving your skin's texture.*
* results may vary from person to person
The advanced natural ingredients in Nutrifade™ have been found to provide the following incredible benefits*:
Treats Hyperpigmentation
Lightens Your Skin Naturally
Evens Out Your Skin Tone
Fades Dark Marks & Age Spots
Protects Your Skin From UV Rays
Firms Your Skin & Smoothes Wrinkles
Detoxifies Your Skin
Reduce Appearance of Acne Scars



* results may vary from person to person
Nutrifade™ is formulated with an amazing total of 19 Active Ingredients. The function of each ingredient is explained below:
Turmeric Powder
Turmeric contains potent antioxidants known to protect against environmental stressors. With it's internal benefits being so amazing, turmeric also helps delay the appearance of discolourations and pigmentatrion on the skin. Turmeric has long been an effective beauty ritual for lightening and brightening the skin.
Grape Seed Extract
Grape seed extract is a powerful antioxidant that has been shown to help protect from sun damage and provide a more even skin tone. It helps prevent darkening of the skin and can reduce pigmentation. It also protects the cells from destruction brought about by free radicals.*
Vitamin B3 Niacin
Vitamin B3 is an effective skin lightening compound that works by inhibiting melanosome transfer from melanocytes to keratinocytes.
Vitamin A
Effective antioxidant.
Vitamin C
Essential for healthy skin and provides protection from free radical damage which can cause outbreaks.*
Vitamin E
Effective antioxidant which can help reduce appearance of scars and dark marks.*
Vitamin B5
This has natural broad abilities to moisturise, soothe, repair and regenerate the skin.
Calcium
Calcium in the epidermis helps regulate the skin's pigment cells, allowing it to protect itself from harmful UV rays.*
Vitamin B12
Helps to regulate the production of pigment in the skin, helping to prevent dark spots and pigmentation
Biotin
Biotin is very effective at improving skin and helping to create a youthful glow. It also strengthens hair and nails.

Citrus Bioflavonoid Complex
Citrus BioFlavonoids are a powerful defense against oxidative stress.*
Folic Acid
This is a great detoxifier. Toxins and impurities are removed so that even toned skin can be achieved. Folic acid also helps to reduce acne.
Zinc
Zinc helps to repair and renew the skin and prevents acne by regulating the activity of the oil glands. It is also an antioxidant which helps to fight and prevent the formation of free radicals

Copper
Copper activates many enzymes, including lysyl oxidase which increases the production of elastin and collagen.
Magnesium
Magnesium is necessary for maintenance of a healthy skin barrier, and has been shown to help fight off dry, damaged skin
Selenium
Selenium can positively affect the tone and texture of your skin.
Manganese Gluconate
Manganese Gluconate can have an anti-aging effect on skin due to its role in protein synthesis. It plays a role in strengthening skin, plus may benefit elasticity and hydration.
* results may vary from person to person


Frequently Asked Questions
Can this product really Fade Dark Patches and Give Me A Clearer Complexion?
Studies have indicated that the active ingredients work to help clear dark marks by inhibiting the production of melanin and reducing the concentration of pigmentation in the skin, creating a brighter more even skin tone.*
How Long Does It Take To See Results?
Although this can vary based on how well your body utilizes the supplement, positive results are possible within 30 - 60 days.*
Can it work on skin all skin types?
Yes Nutrifade can work on all skin types, Asian, African, Indian, Arab, Middle Eastern, Caucasian and Latin. For men and women.*
Is It safe?
Very Safe. Nutrifade is manufactured in the U.K . under strict FDA & EU guidelines. The active ingredients, are the most powerful yet natural antioxidants available. In fact, there are numerous benefits to regularly taking Nutrifade.
Can I take it the same time as other treatment creams or soaps?
Yes. If other creams and lotions are working for you, you can take it to achieve a more natural, even, and healthy skin tone.
Does it work on the face only or will it also work on the body?
The effect will be even and consistent for the face and the whole body. The reason is because the ingredients work to inhibit melanin and decrease the concentration of pigmentation throughout the body. The lightening process happens all over meaning that you will have an even skin tone throughout your body.*
Are there negative long-term effects?
There are no known side effects with oral administration of the ingredients in these pills.
* results may vary from person to person
Active ingredient list:
Ascorbic Acid Vitamin C
Turmeric Powder
Magnesium Oxide
Zinc Citrate
Ferrous Fumarate providing Iron 14mg
DL-Choline Bitartrate
Vitamin E
Vitamin B3 Niacin
Citrus Bioflavonoids
Vitamin B5 Pantothenic Acid
Manganese Gluconate 1
Grape Seed Extract
L-Glutamine
Vitamin B6
Calcium Carbonate
Vitamin B1 (Thiamin)
Vitamin B2 (Riboflavin)
Vitamin D3 (Cholecalciferol)
Vitamin A (Retinyl Acetate)
Folic Acid
Potassium Iodide
Copper Citrate
Vitamin B12
Sodium Selenite
Biotin (D)
See tab above for full ingredient list
Directions:
Take one or two tablets daily.

NOT RECOMMENDED TO USE IF PREGNANT OR NURSING
This product is manufactured in the U.K. to the highest standard (ISO 2000:9001 quality assurance)
Nutrifade is manufactured in a U.K. certified facility. Good Manufacturing Practices are a set of guidelines outlining a system of processes, procedures, and documentation, which gives you the assurance that this product is safe & correct, with the appropriate strength, composition, quality, and purity it should contain.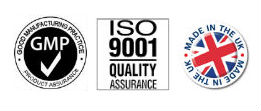 REGRETTABLY WE ARE UNABLE TO SHIP NUTRIFADE TO CUSTOMERS IN NEW ZEALAND
This product is not intended for persons under 18.
This product is a food supplement and is not intended to treat, or prevent any disease. It is not intended to restore, correct or modify physiological functions but rather a dietary supplement intended for nutritional support.
Do not exceed stated recommended intake. Food supplements must not be used as a substitute for a varied and balanced diet and a healthy lifestyle. Store in a cool, dry place.
Latest GENUINE customer reviews:
Good product!!! ,by ann
my dark pigmentations lightens. I am about to buy the second bottle. I will surely recommend this product to anybody. It is worth a try.
Amazing, by Mrs N Seraphin
I have severe acne scarring/black marks on my face and body and have just finished my first jar of this product. My skin is not only clearing up but i havent had any breakouts.I must admit its taking a little longer for my face to clear up but im not sure if its because the scars are older or because i wear makeup on top. At this rate i'll be back in my short sleeve tops which i havent been able to wear in 9 years again by late summer. I love nutrifade.
Will buy again,By flower
Good product, will use again, is does work, brightens your complexion, I would recommend to those who have pigmentation problems, any slight mark I get from cuts or spots, I am left with a pigmentation make, horrible, that's just how my skin is, it would take ages to fade, these tablets really work, and they work fast.
Impressed with this – my skin is looking much better after just 2 weeks.
T. Perera
I purchased this because I have never come across a skin care supplement with so many active ingredients. It looked like it would really do some good – and it has!
N. Betts
The pills are fairly bulky but look so natural and they are! They taste fine and I am pleased with the results so far.
C. Brainard
I have noticed that since using Nutrifade, my skin is the clearest it has ever been. I also feel that it is clearing the toxins out of my body - I strongly recommend it.
H. Palmer
Ingredients: Ascorbic Acid 82.45mg providing Vitamin C 80mg 100% Turmeric Powder 50mg - Magnesium Oxide 100mg providing Magnesium 60mg 16% Zinc Citrate 33.5mg providing Zinc 10mg 100% Ferrous Fumarate 46mg providing Iron 14mg 100% DL-Choline Bitartrate 20mg - Vitamin E providing Vitamin E 12mg 100% Vitamin K1 5% 1.5mg providing Vitamin K 75μg 100% Vitamin B3 Niacin 16mg 100% Citrus Bioflavonoids 14mg - Vitamin B5 Pantothenic Acid 13.14mg providing Pantothenic Acid 12mg 200% Manganese Gluconate 18.18mg providing Manganese 2mg 100% Grape Seed Extract 95% Proanthocyanidins 90% polyphenols 120:1 5mg providing 600mg - L-Glutamine 5mg - Vitamin B6 (Pyridoxine Hydrochloride) 5.12mg providing Vitamin B6 4.2mg 300% Calcium Carbonate 303mg providing Calcium 112mg 14% Vitamin B1 (Thiamin) 1.42mg providing Thiamin 1.1mg 100% Vitamin B2 (Riboflavin) 1.4mg 100% Vitamin D3 (Cholecalciferol) 0.1 MIU/g 100,000 iu/gm 2mg providing 5μg 100% Vitamin A (Retinyl Acetate) 7.16mg providing Vitamin A 800μg 100% Folic Acid 200μg 100% Potassium Iodide 0.2mg providing Iodine 150μg 100% Copper Citrate 2.78mg providing Copper 1mg 100% Vitamin B12 (Cyanocobalamin) 1% 0.25mg providing Vitamin B12 2.5μg 100% Sodium Selenite 0.122mg providing Selenium 55μg 100% Biotin (D) 50μg 100% * Reference intake of an average adult (8400 kJ/2000 kcal) Other Ingredients: Micro Crystalline Cellulose (Bulking Agent), Di Calcium Phosphate (Bulking Agent), Silicon Dioxide (Anti-Caking Agent), Magnesium Stearate (Anti-Caking Agent). Suitable for Vegetarians: Yes Suitable for Vegans: NO Allergy Advice: For allergens see ingredients in bold. Serving Size: Take one or two tablets daily with water, do not exceed stated dose.
* This product works.!!! Really good after a couple of weeks.
The.only thing I would suggest is that skintight do voucher codes or buy one get the other half price for loyal customers, they should know who they are.
As they should give something back in these hard times.

* This product works but you need lots of patience.. I started seeing result 3 weeks into my 3rd bottle.. I have just ordered my 4th bottle but this time with vitamin c booster supplement. Hopefully the results will be quicker with this added to it.. I love this product because it got rid of my imperfections first before lightening my body naturally..


* These capsules are awesome

* From Zambia. It's bearly a month from the time i started taking these tablets and i have noticed a difference,so i decided to order two more bottles. Because i don't want limited supply.

*Just received my order today, I bought this because of the good reviews hope I do not regret it.

* It is nice but it takes time for the dark marks to go .I think I also need a body cream

Is clearing my skin very well.i will buy it again

* Is clearing my skin very well.i will buy it

Takes time but its doing the job

*Will definitely order more bottles. My friends and family tells me how bright my skin is and i dont need make up cos my skin its glowing. It takes time you have to be patient taking this stuff. Am taking it with vitamin c. I will try to include glutathione too. I have wasted money on silly things before which was causing pigmentation.

* It really good product. I am please with it .I try order more. But not available