Nutrifade Hyperpigmentation 30 Day Treatment For Dark Marks & Uneven Skin
NEW IMPROVED FORMULA! WITH GLUTATIONE & PINE BARK
NUTRIFADE IS NOW IN CAPSULE FORM
Pigment Correcting Supplement - 30 Vegetarian CAPSULES now with Glutathione, Pine Bark, Turmeric & Grape Seed Extract as well as Vitamins A,C,E,B
The advanced natural ingredients in Nutrifade™ have been found to provide the following incredible benefits*:
Treats Hyperpigmentation

Lightens Your Skin Naturally

Evens Out Your Skin Tone

Fades Dark Marks & Age Spots

Protects Your Skin From UV Rays

Firms Your Skin & Smoothes Wrinkles

Detoxifies Your Skin

Reduce Appearance of Acne Scars



Nutrifade is specifically formulated to improve your skin's clarity and radiance, while providing toning benefits and improving your skin's texture.
Nutrifade is manufactured in the U.K. under strict guidelines. It is formulated with EU approved natural ingredients to treat the following skin conditions*:
Melasma
Hyperpigmentation
Acne Scarring
Uneven Skin Tone
Age Spots
Wrinkles


Nutrifade is formulated with an amazing total of 14 Active Ingredients. The function of each ingredient is explained below:

Glutathione
Glutathione has become the choice of specialists as a safe skin lightening supplement. It helps in preventing acne formation, and keeps the skin glowing. L-Glutathione acts as a Tyrosinase Inhibitor. Tyrosinase is an enzyme that catalyses the biosynthesis of melanin.
Pine Bark Extract (Pycnogenol)
Pycnogenol is an extract from the bark of the pine tree, Pinus pinaster. It's packed with a potent blend of natural antioxidants, which helps to make it a powerful weapon in the battle against hyperpigmentation.
Turmeric Powder
Turmeric contains potent antioxidants known to protect against environmental stressors. With it's internal benefits being so amazing, turmeric also helps delay the appearance of discolourations and pigmentatrion on the skin. Turmeric has long been an effective beauty ritual for lightening and brightening the skin.
COQ10
CoQ10 helps fade and prevent hyperpigmentation and dark spots caused by excess melanin in the skin, so promoting a brighter and more even skin tone. It does so by inhibiting tyrosinase activity, which is the enzyme required in melanin production.
Grape Seed Extract
Grape seed extract is a powerful antioxidant that has been shown to help protect from sun damage and provide a more even skin tone. It helps prevent darkening of the skin and can reduce pigmentation. It also protects the cells from destruction brought about by free radicals.*
Vitamin A
Effective antioxidant.
Vitamin C
Essential for healthy skin and provides protection from free radical damage which can cause outbreaks.*
Vitamin E
Effective antioxidant which can help reduce appearance of scars and dark marks.*
Zinc
Zinc helps to repair and renew the skin and prevents acne by regulating the activity of the oil glands. It is also an antioxidant which helps to fight and prevent the formation of free radicals
Selenium
Selenium can positively affect the tone and texture of your skin.
Manganese
Manganese can have an anti-aging effect on skin due to its role in protein synthesis. It plays a role in strengthening skin, plus may benefit elasticity and hydration.
Frequently Asked Questions
Can this product really Fade Dark Patches and Give Me A Clearer Complexion?
Studies have indicated that the active ingredients work to help clear dark marks by inhibiting the production of melanin and reducing the concentration of pigmentation in the skin, creating a brighter more even skin tone.*
How Long Does It Take To See Results?
Although this can vary based on how well your body utilizes the supplement, positive results are possible within 30 - 60 days.*
Can it work on skin all skin types?
Yes Nutrifade can work on all skin types, Asian, African, Indian, Arab, Middle Eastern, Caucasian and Latin. For men and women.*
Is It safe?
Very Safe. Nutrifade is manufactured in the U.K . under strict FDA & EU guidelines. The active ingredients, are the most powerful yet natural antioxidants available. In fact, there are numerous benefits to regularly taking Nutrifade.
Can I take it the same time as other treatment creams or soaps?
Yes. If other creams and lotions are working for you, you can take it to achieve a more natural, even, and healthy skin tone.
Does it work on the face only or will it also work on the body?
The effect will be even and consistent for the face and the whole body. The reason is because the ingredients work to inhibit melanin and decrease the concentration of pigmentation throughout the body. The lightening process happens all over meaning that you will have an even skin tone throughout your body.*
Are there negative long-term effects?
There are no known side effects with oral administration of the ingredients in these capsules.


Active ingredient list:
Glutathione
Pine Bark Extract
COQ10
Selenium
Green Tea Extract
Bilberry
Vitamin C
Vitamin A
Vitamin E
Turmeric Powder
Zinc Citrate
Manganese
Grape Seed Extract
Directions:
Take just one capsule daily.
Capsule shell: vegetable cellulose 100mg

Suitable for vegetarians.
Approved kosher
This product is manufactured in the U.K. to the highest standard (ISO 2000:9001 quality assurance)
Nutrifade is manufactured in a U.K. certified facility. Good Manufacturing Practices are a set of
This product is a food supplement - Store in a cool, dry place.
* results may vary from person to person
GENUINE customer reviews:
Good product!!! ,by ann
my dark pigmentations lightens. I am about to buy the second bottle. I will surely recommend this product to anybody. It is worth a try.
Amazing, by Mrs N Seraphin
I have severe acne scarring/black marks on my face and body and have just finished my first jar of this product. My skin is not only clearing up but i havent had any breakouts.I must admit its taking a little longer for my face to clear up but im not sure if its because the scars are older or because i wear makeup on top. At this rate i'll be back in my short sleeve tops which i havent been able to wear in 9 years again by late summer. I love nutrifade.
Will buy again,By flower
Good product, will use again, is does work, brightens your complexion, I would recommend to those who have pigmentation problems, any slight mark I get from cuts or spots, I am left with a pigmentation make, horrible, that's just how my skin is, it would take ages to fade, these tablets really work, and they work fast.
Impressed with this – my skin is looking much better after just 2 weeks.
T. Perera
I purchased this because I have never come across a skin care supplement with so many active ingredients. It looked like it would really do some good – and it has!
N. Betts
They taste fine and I am very pleased with the results so far.
C. Brainard
I have noticed that since using Nutrifade, my skin is the clearest it has ever been. I also feel that it is clearing the toxins out of my body - I strongly recommend it.
H. Palmer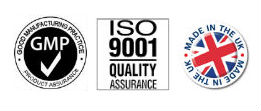 This product is not intended for persons under 18.
This product is a food supplement and is not intended to treat, or prevent any disease. It is not intended to restore, correct or modify physiological functions but rather a dietary supplement intended for nutritional support.
Do not exceed stated recommended intake. Food supplements must not be used as a substitute for a varied and balanced diet and a healthy lifestyle. Store in a cool, dry place.
Ingredients: 1 capsule provides: RI% L-Glutathione 100mg Vitamin C (ascorbic acid) 100mg 125% Alpha lipoic acid 50mg Vitamin E natural (50iu) (SOY) (D-Alpha tocopherol succinate) 33.6mg 279% Turmeric extract (Curcuma longa) (95% curcuminoids) (maltodextrin) 40mg Grape seed extract (Vitis vinifera) (95% OPC) 40mg Pine bark extract (Pinus pinaster) (95% OPC) 30mg Co-Enzyme Q10 20mg Selenium (L-selenomethionine) (Di-calcium phosphate, selenium) 100μg 182% Manganese (citrate) 3mg 150% Green tea extract (Camellia sinensis) (50% polyphenols) 10mg Bilberry extract (4:1) (Vaccinium myrtillus) (bilberry fruit, maltodextrin) 10mg Zinc (citrate) 3mg 30% Vitamin A (acetate) (1000iu) (starch, maltodextrin, vitamin A, sucrose) 300μg 37.5% Capsule shell: vegetable cellulose 100mg Suitable for vegetarians and vegans Approved kosher
* good results but takes time

* Excellent supplement. I have already seen improvement from first the first bottle. Cant wait for second bottle to get maximum results.

* I started using Nutrifade in the summer, and I am really impressed so far. The hyperpigmentation on my face has been hard to get rid of in the past, but this has made a noticeable difference - after just a few weeks of use. I would definitely recommend Nutrifade if youre looking for something that will help fade those annoying dark spots.

* Ive ordered my second bottle. It helps lighten my melasma, though gradually but at least i could see the effect even in my whole body. It makes my skin clearer.

* This is awesome its gotten rid of All my dark marks. I really like this, I strongly recommend it.

* This product works.!!! Really good after a couple of weeks. The.only thing I would suggest is that skintight do voucher codes or buy one get the other half price for loyal customers, they should know who they are. As they should give something back in these hard times.

* This product works but you need lots of patience.. I started seeing result 3 weeks into my 3rd bottle.. I have just ordered my 4th bottle but this time with vitamin c booster supplement. Hopefully the results will be quicker with this added to it.. I love this product because it got rid of my imperfections first before lightening my body naturally..

* These capsules are awesome

* From Zambia. It's bearly a month from the time i started taking these tablets and i have noticed a difference,so i decided to order two more bottles. Because i don't want limited supply.
size:

30 tablets

directions:

take 1 a day with meals