NEW! - Vita-Light Vitamin C - 60 vegetarian caps 500mg

Unique Potent Multi-Vitamin & Antioxidant Formula
Skin Lightening Booster with Super Charged Vitamin C For a clear, radiant and even toned complexion.*
Vita-Light capsules are factory sealed in a special FLAT-PACK bottle for easy delivery.
Recommended for skin with*:
hyperpigmentation
visible wrinkles
age spots
discolorations skin damaged by sun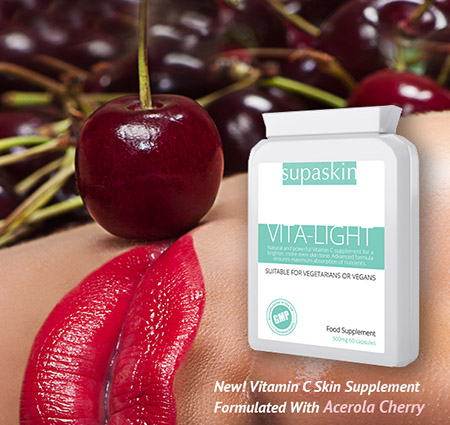 * results may vary from person to person
This HIGH GRADE Super Charged Vitamin C supplement helps to even out your skin tone. It also acts as a booster to speed up the results from skin lightening and hyperpigmemtation creams. It is a powerful antioxidant – The process of oxidation damages the skin cells.*

Contains acerola cherry extract. Acerola cherries provide more vitamin C than all other food sources, according to the U.S. Department of Agriculture


This Vitamin C capsule is rich in anti-oxidants that repair and renew the cells and give the skin a radiant and healthier look and thus boosting the results if using Supaskin Gluta-Caps or a skin lightening cream.*
Vitamn C protects you from the sun – Getting overexposed to the sun can cause hyperpigmentation and sun spotting. This vitamin C will counteract any negative effects of the sun. But it is important to note that a vitamin c cannot replace your sunscreen.*
Vita-Light is a unique whole-food (food based) source of Vitamin C - made up from some of Natures richest sources of this essential vitamin and antioxidant. It is packed full of natural vitamins, minerals, antioxidants, bioflavonoids, pectins, essential oils, lycopene, carotenoids, plant sterols, catechins, polyphenolics and many other phytonutrients.*
This is a food form / food state Vitamin C supplement - 500mg per capsule
Food form supplements are as mother Nature intended
Maximum absorption and utilisation of nutrients
NO synthetic Vitamin C
This is food state Vitamin C derived from Acerola cherries, Rosehip, Blackcurrant, Parsley leaf and Elderberry - natural food state sources as the body requires
Gentle and Non Acidic
This form of Vitamin C is retained longer in the body due to it's array of beneficial bioflavonoids, vitamins, minerals and other phyto-nutrients



* results may vary from person to person
Our Food State Vitamin C complex combination is made up of natural food ingredients; as recognised and required by the body for maximum digestion, absorption and utilisation.

This natural combination is also one of the few Vitamin C products that...
Is NOT rapidly excreted from the body / retained for longer
Is NOT acidic
Has a high ratio of utilisation & retention (subsequently a lower daily dose is required)
Is Suitable for young and old
Is Suitable for vegetarians & Vegans

Vita-Light is formulated with the following powerful ingredients which all help to fade dark patches, protect your skin from sun damage and help to even out your skin tone:
Acerola Cherry:

Known as a Super Fruit due to it's exceptional nutritional values and very high natural source of Vitamin C. Vitamin C is essential for the growth and repair of cells and for a strong immune system.
Acerola cherries provide more vitamin C than all other food sources, according to the U.S. Department of Agriculture
These little red coloured fruits possess an amazing array of vitamin and antioxidant power. Acerola cherry provide a naturally bio-available and powerful source of Vitamin C which is fully utilised by the body, unlike man-made ascorbic acid which is sold as vitamin C.
Most of the skin benefits associated with acerola come from its high vitamin C concentration. These include:
Antioxidant action to protect against free radical damage that can accelerate skin aging
Ability to even skin tone and brighten skin
Boosting production of collagen and elastin
Increasing the ability of skin to retain moisture
Researchers have identified nearly 150 nutritive constituents in acerola cherry which includes bioflavonoids, proteins, mineral salts, iron, calcium and phosphorus. As a comparison of Vitamin C content to other fruits, 1 small Acerola cherry contains around 80mg Vitamin C - this is 30 times the amount found in Oranges (of the same weight). This undoubtedly makes acerola cherry one of the most nutritious fruits known to us.

Rosehip:

Rosehip is excellent for pigmentation and scarring due to its natural healing properties containing vitamin c and vitamin a.
Rose Hips are round red fruits, a great source of Vitamin C and bioflavonoids. There is as much vitamin C in a cup of rosehip pulp as in 40 oranges. Vitamins A, B1-3 and K are also present. Bioflavonoids present in the pulp and the rind of the fruits exert a synergic action to Vitamin C, enhancing its absorption by the body.|
From a health perspective, they are best known for their high content of vitamin C. There is approximately 1,700 mg of C in 100 gm of dried rosehip. That's a lot of readily bio-available vitamin. A lot more than what's in an orange. Native Americans have been using rosehips as tea for thousands of years and when the tea is finished, the hips were added to stews or soups. There was just too much nutrition in a rosehip to let it go to waste. This dark red fruit is certainly no stranger to the world of alternative medicine and could be described as a nutritional superstar with its high iron and vitamin content. It has an antioxidant potential even greater than that of blueberries.

Parsley leaf (Petroselinum sativum):

Parsley is a highly nutritious member of the umbelliferous vegetable family. It has many health benefits and has been used for 100's of years as a natural remedy for many conditions and as a food.
It contains a host of nutrients such as Vitamin A, C, E, bioflavonoids, iron, folic acid, volatile oils, coumarins, flavonoids and chlorophyll.

Parsley contains more vitamin C than any other culinary vegetables i.e. approximately three times as much as found in oranges and about the same amount as black currants. It's iron content is also high (around twice as much as spinach). The plant is a good source of manganese, calcium and potassium. Also acts as an antioxidant.


Blackcurrant:

Another Super Fruit due to it's wide array of beneficial phytonutrients. During World War 2, the blackcurrant was used as a replacement for oranges and other fruits rich in Vitamin C as they were hard to come by in the United Kingdom.
Blackcurrant fruit is extraordinarily rich in Vitamin C and far superior to navel oranges - containing more than three times as much as an orange. It also contains a good amount of calcium, potassium, phosphorus, iron and vitamin E. Blackcurrants are a great food for increasing energy and the seeds are rich in unsaturated fatty acids.

Packed with Antioxiants (anthocyanins, a type of polyphenol) and Phytonutrients, a recent scientific study has revealed that the natural chemicals and compounds found in blackcurrants may help balance the impact exercise can have on the body.

Elderberry:

A true gift from Nature. Elderberries contain more vitamin C than any other herb except for black currants and rosehips! Anthocyanins found in elderberries have more antioxidant capacity than either vitamin E or vitamin C.
Elderberry anthocyanins support immune function by boosting the production of cytokines, proteins acting as messengers in the immune system to help regulate immune response. They are rich in antioxidants, vitamins A, B, and C, flavonoids, and potassium. Also said to be good as healthy heart support.


In Summary: The combination of vitamin rich ingredients in this product provide you with an exceptionally effective, food state vitamin C along with all of the healthy nutrients that ensure maximum absorption and nutritional utilisation as the array of nutrients work in perfect synergy within the human body. This will provide the most effective results to improve your skin tone.

For this reason, Vita-Light is more effective than synthetic Vitamin C supplements. Most of these synthetic vitamin products are packed with unwanted fillers, binders, additives and colors.
In many cases, these excipients can reduce absorption of the active ingredients and are potential allergens to many people.


Vita-Light Vitamin C capsules are manufactured in the UK to Good Manufacturing code of practice and BS:EN 9001:2000 quality assurance certification. Only the finest quality raw materials in their highest and purest form are used.
Good Manufacturing Practice provides independent verification and certification that the basic manufacturing practices and prerequisites necessary for product quality and safety are being followed. This goes above and beyond what is required, ensuring we can guarantee you receive a high quality product.
Ingredient List:
Acerola cherry: 25% Vitamin C 200mg
Parsley leaf (Petroselinum sativum) 100mg
Blackcurrant 4:1 extract (equivalent to 212mg) 53mg
Rosehip 4:1 extract (equivalent to 212mg) 53mg
Elderberry extract (30% polyphenols) 14mg

Other Ingredients: HPMC Capsule shell, Microcrystalline Cellulose
Contains no: Gluten, Wheat, Lactose, added Sugar, Additives, Artificial Colourings or Yeast
Directions:
Take 1 to 3 capsules per day with or without food or as advised.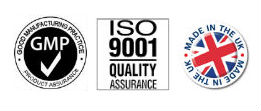 MADE IN THE UK
This product is manufactured in the U.K. to the highest standard
Acerola cherry: 25% Vitamin C 200mg Parsley leaf (Petroselinum sativum) 100mg Blackcurrant 4:1 extract (equivalent to 212mg) 53mg Rosehip 4:1 extract (equivalent to 212mg) 53mg Elderberry extract (30% polyphenols) 14mg Other Ingredients: HPMC Capsule shell, Microcrystalline Cellulose Contains no: Gluten, Wheat, Lactose, added Sugar, Additives, Artificial Colourings or Yeast
* Really love the effect of vitamin C skins booster on my skin, nice and effective. Tops up

* Used alone it makes your skin look like caramel. It doesn't give you a bleached look but it gives you a nice golden caramel look. I love it. Bonus the pills give you lots of energy. I will always buy again

*I have been saying this for some time now, am still on my 1st bottle but I would say ave noticed a different just after short time use, my skin/face is quite clear I love it but I was also using clarifying body oil but I like it because I tried makari before but after almost a month, there was no change so I dumped makari n decied to try skin light them tablest are big but it's okay.

*It works as it says, really good

*I have been using gluta caps capsules for a while and on one occasion when I was going through their website someone suggested I try the supplements and that used together with gluta caps I will see the difference. After purchasing and using them for three days I noticed my skin was much more radiant and my skin glowed... this actually is a catalyst tablet it helps the gluta caps to get absorbed and work faster in the system. It's like have iron supplements with vitamin c or orange juice. Highly recommend . When you are using msn tablets (supaskin) they work well with vita light capsules as well.

Vitamin c skin booster supplement

I have used it for 1 month now and have not noticed any difference in my skin yet.

*This is very good ,the only problem I have

*definately ordering again works well with the vit c product

Can't see much difference

I purchased this product in the hopes it brightens my blemish prone, hyperpigmented brown skin and I haven't really seen much difference. I am almost finished with my first container so will buy another and give it a chance.