Posted by hairaze.com on on 1st Oct 2019
The experts at Hairaze tell you all you need to know
A good hair day with tons of volume and movement are ultimate goals, but when our hair is looking thin and dull we'd rather scrape it back and ignore it. Our hair affects how we feel. So when we notice that it's falling out more than usual, we start to panic.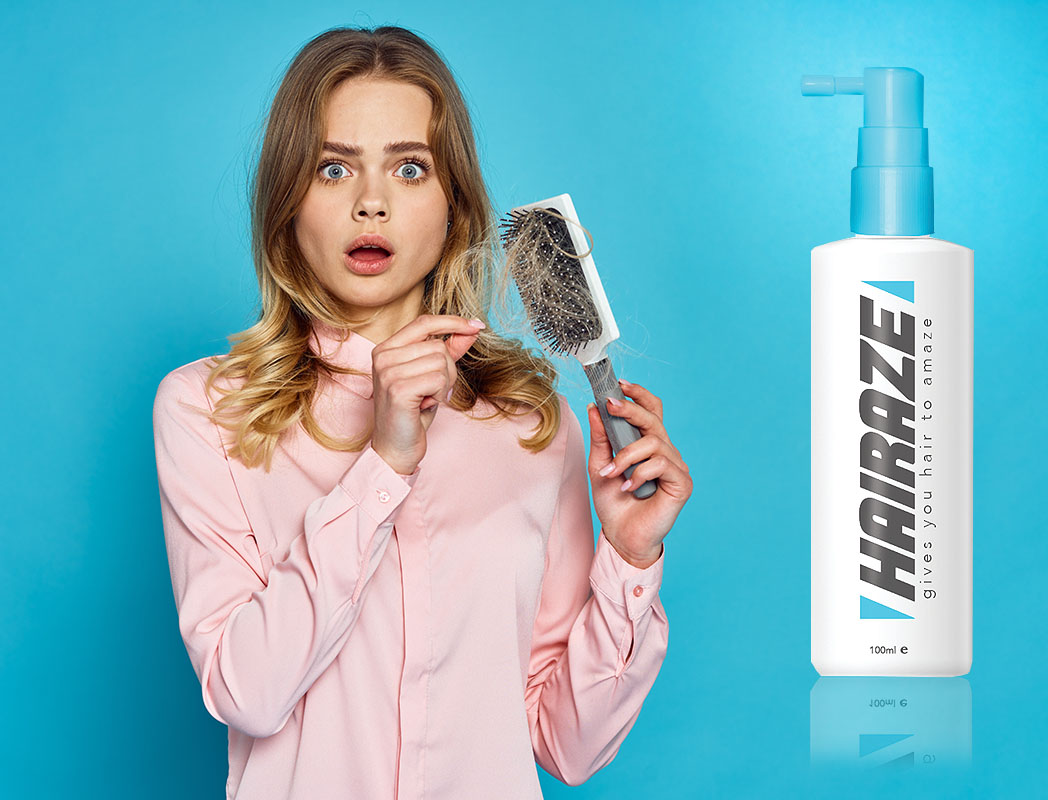 It's normal to shed between 50 to 100 hairs every day. This might sound like a lot but it is actually quite normal. However, if you're losing more than that you will likely be experiencing hair loss. This can have a huge impact on your confidence and self-esteem. Fortunately, there is an incredible new treatment available that actually works by increasing the number of hairs on the head and dramatically reducing hair loss!
It's called Hairaze and its set to be a global success in helping millions of people struggling with a common but very distressing issue such as hair loss
There are many things that can trigger hair loss, from hormones, genetics, hair extensions, wigs, diets or stress. It's important to get to treat the problem as soon as possible as the longer you leave it untreated the longer it will take to rectify and could possibly cause permanent damage to the follicle.
Scalp, scalp, scalp!!!
Once a hair follicle emerges and pokes through, the part you see is actually dead! the important bit happens under the skin on your head and on the actual scalp. Special nutrients are needed to stimulate new hair growth.
Hairaze was invented by Tanya Furst - a mother who lost almost half the hair on her head due to severe post partum hair loss. This prompted her to find a solution for herself. Originally this was not something that was going to be marketed. After 7 years of research and trying to perfect the formula it was finally a finished product. Family members, hairdresHsers, and friends started to ask her what she'd done to her hair as it looked so good. Her hairdresser couldn't believe the amount of new hairs that were appearing on her head. As quoted by Tanya "I think when my hairdresser noticed just how many new hairs there were I knew this was working, as I had been through such an emotional journey suffering with severe hair loss I felt compelled to help other people who have been going through similar issues, using Hairaze has been a game changer and my hair is so thick and healthy now".
Hairaze has combined the very best natural ingredients which are known to stimulate hair growth. One of the main ingredients is peppermint oil which according to a Korean Research laboratory outperformed Minoxidyl in increasing hair density and growth!
What is unique about this is the very high concentrations of natural ingredients that are well known to combat hair loss. Many hair loss treatments contain chemicals which in the long term can cause skin reactions and actually cause more hair to fall out. Hairaze is made using natural ingredients and it's paraben free.
https://www.skinlight.co.uk/hairaze-revolutionary-natural-hair-scalp-treatment-for-thinning-hair/