Posted by skinlight.com on 6th Nov 2017
Vitamin C reduces the formation of free radicals and stimulates collagen synthesis therefore slows down the ageing process. It helps to brighten and smooth the skin, increases its ability to retain moisture, protects against skin elasticity loss, helps in fighting the signs of ageing. Additionally, defeats discolouration of the skin.
Formulated with 7.5% L-Ascorbic Acid. L-Ascorbic Acid reaches the deepest layers of the skin to provide superior antioxidant protection, defends against damaging UVA and UVB rays, contributes to collagen synthesis and helps prevent premature signs of ageing. Intense C Serum PM is a vitamin C concentrate with patented QuSome delivery.*
Vitamin A - works to speed up the turnover of skin cells, fades hyperpigmentation marks, stimulates the production of collagen, and helps to hydrate the skin. It increases the skin's radiance and leaves the skin clearer and more even toned.
Vitamin E - A very Effective antioxidant which can help reduce appearance of scars and dark marks. Vitamin E protects the skin from environmental pollution and has a protecting action against UV radiation and oxidative stress. It is considered to be a protector ingredient as it is a major free-radical scavenger which is great as free radicals are extremely damaging to the skin tissue. Topical application of products containing vitamin E is said to result in skin brightening, smoothening, moisturising, prevention of sun damage and premature skin ageing.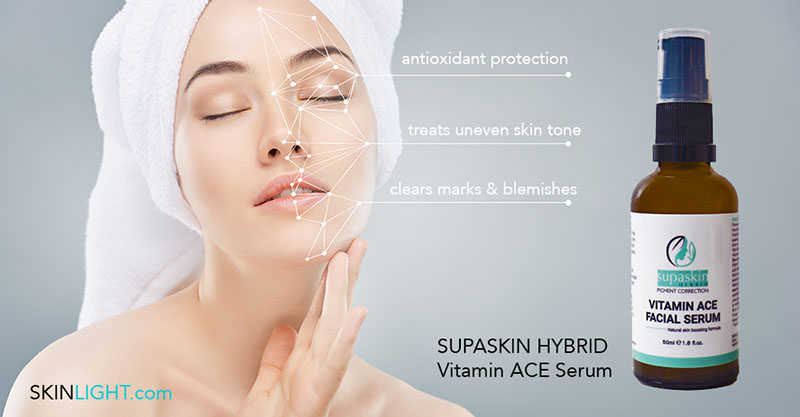 VITAMIN A,C and E BENEFITS
Provides superior antioxidant protection
Helps fade dark marks
Defends against damaging UVA and UVB rays
Contributes to collagen synthesis
Helps prevent premature signs of ageing