Posted by David Furst, skinlight.com on 7th Dec 2016
Patchy, uneven skin can be avoided and also treated with proven skincare products, a good, healthy diet and facial peeling. One of the quickest ways to achieve a smooth even skin tone is to firstly, apply a product that peels off dead skin cells and build collagen. A quality skin cream that builds collagen will help to renew the skin and show a radiant glow.
Retinol (Vitamin A) & Vitamin C treatments are the gold standard in skin correction with 25 years of reliable data supporting their skin correcting and collagen building claims.
The combination of Retinol and Vitamin C helps to remove the outer layers of dead skin, stimulate the build up of collagen and help to protect the skin from UV damage and stress.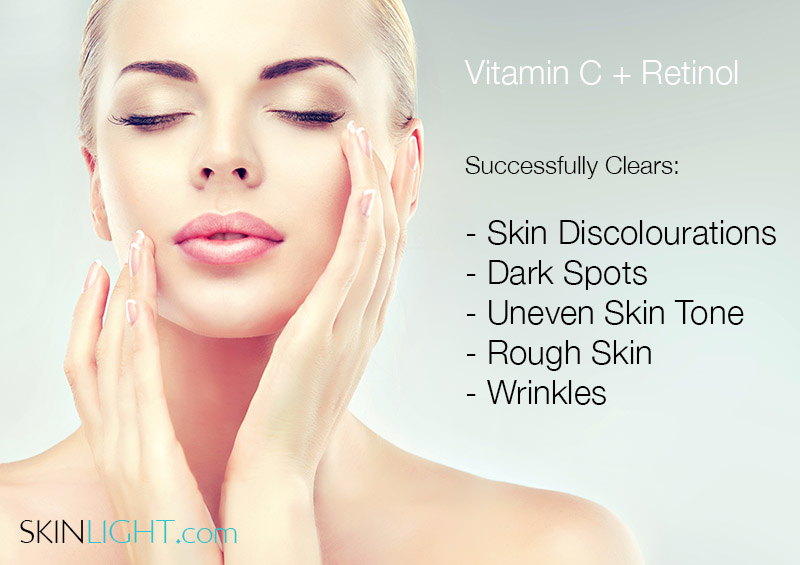 Retinol is the pure form of Vitamin A and helps to speed up cell turnover and fade sun damage and wrinkles. It helps to keep your skin looking good and protected.
It does this by stimulating cell production under the outer layers of your skin. This new cell turnover will encourage the exfoliation of dead skin cells and allow new, healthier cells to appear.
This results in your skin appearing brighter, even toned and much smoother.
Vitamin C is known to be a very potent antioxidant for the skin. This makes Vitamin C an invaluable friend in the fight against uneven skin. It protects against environmental stress and photo damage due to both UVA & UVB rays.
When topically applied, vitamin C provides a skin rejuvenating effect by stimulating collagen production in the skin as well as diminishing skin damage from free radicals.
Applying a product with vitamin C can help prevent your skin from turning darker by stopping and fading brown spots due to it's melanin suppressing properties.
The combination of Vitamin C and Retinol visibly improves the appearance of:
Skin Discolourations
Dark Spots
Overall skin tone
Skin texture and smoothness
Fine lines and Wrinkles

Well formulated products containing Retinol & Vitamin C can provide a load of benefits from helping to even your skin tone, renewing the skin's surface, greatly improving hydration, and keep your skin looking brighter, clearer and younger!