Posted by skinlight.com on 31st Aug 2017

What if you could achieve a beautiful even skin tone? Would it make you happy? Would it boost your confidence?......
..........YOU BET!
Well, this can all be achieved by simply taking a pill. Boost your skin, to boost your confidence with NUTRIFADE.
Nutrifade™ contains 19 active ingredients that each have unique properties to clear the skin from dark marks and pigmentation. These powerful ingredients work together to clear and lighten your skin to reveal a more radiant and glowing even skin tone.
"Nutrifade™ is one of the most advanced and comprehensive dietary supplements available to help improve the appearance of uneven, patchy skin tone."
This is our most popular supplement and is formluated with powerful vitamins, minerals and antioxidants that work together to fade dark marks, scars, age spots, sun damage and more!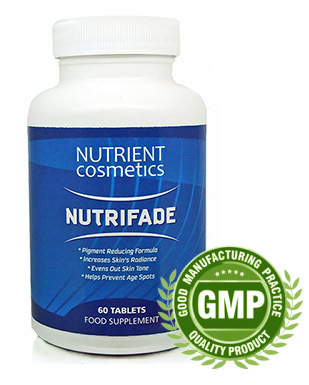 Nutrifade™ is manufactured in the U.K. under strict guidelines. It is formulated with EU approved natural ingredients to treat the following skin conditions*:
Melasma
Hyperpigmentation
Acne Scarring
Uneven Skin Tone
Age Spots
Wrinkles
Nutrifade™ is specifically formulated to improve your skin's clarity and radiance, while providing toning benefits and improving your skin's texture.